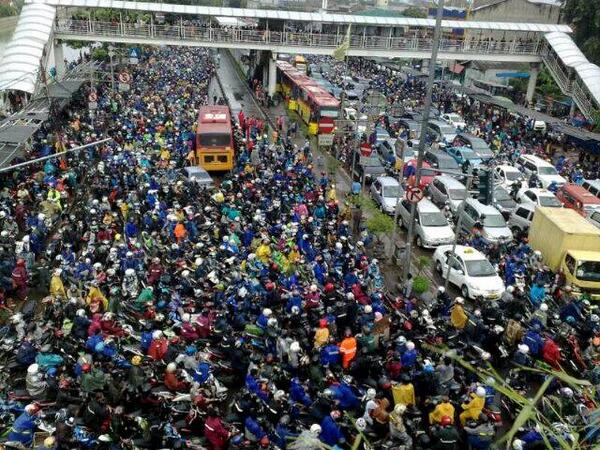 Now it's in the middle of January, and it is the time of the year where Indonesia got washed by the heavy rain almost all the time everyday. The result is flood, traffic jam, and sickness. News have been reporting several flood points in Jakarta and the damage it caused. Some are 30 cm deep, some are 1 meter deep, and some even 3 meters deep. The government, police, and volunteers have been gathered to help people that are trapped in their homes, giving food and temporary place to stay until their homes are dried.
Another result of the heavy rain is not only the flood, but it also created traffic jams all around Jakarta. Some roads cannot be accessed even with a car like Jeep or Land Cruiser. That is totally applicable to my CBR250R. I tried to go to my office today with several routes and could not find a good way until I was detoured to Cawang and go through MT Haryono by the police. Because some areas are closed, so almost everyone was going to the same area, and it was one hellish traffic jam along Cawang to Semanggi.
I had to stop at Shell to fill my gas tank, and bought cup noodle along with a hot chocolate while waiting for the heavy rain to stop. Total time from my house to the office with motorbike? It was two hours (while without traffic jam only takes for 20 – 30 minutes).
The sun has not been shining these days and rain has been coming all day. Please be careful on your way regardless with car, motorcycle, or public transportation. Keep away from the flood especially if you are riding motorcycle and walking. Sickness such as cold and diarrhea is a common sickness in the cold weather and flooded area. Keep yourself clean by washing yourself with warm water when you get home. It's a pretty wet these days. Enjoy and Ride Safely!
Arvy Este
Founder and Writer of Inside Helmet
Motorcycle Blog and Vlog Indonesia
Ride Outside, Write Insight