I did not aware of what makes my website was downed for a couple of days on June, but it is surely because I am out of bandwidth capacity. Probably some bot spam came in and ate all the website bandwidth. If any of you could not access InsideHelmet for a couple days before, I am sorry for that issue. I found out that many spam came from United States, therefor right now I have to block access from United States for a moment to cool down and think about the solution.. Another thing that June did not have any post is also because I became quite busy at work that I had no idea what to write which I had to do stuffs with my client The Body Shop and Kalbe Store, but here it is!
So, what actually happened to me in June. First of all, I fell from my Honda CBR250R.
Ladies and gentleman, for the first time in almost 3 years riding my 2011 Honda CBR250R, I fell from my bike. Thankfully there are no major damage on the bike and on me as well. My knee is wounded (not a big cut though), my shoulder, waist, and feet are sprain but it's fine now. What I'm recovering from right now is the wound on my knee that will take a long time to heal. For my Honda CBR250R, fairing got some little scratches, steering just a bit lefty but its okay now, and the transmission is slightly crooked. A paint job will heal the scratches, and I have to adjust the transmission to my most comfortable condition.
So what happened? I went from after working in the office and it has just stopped raining. The road is still wet, and I ride slowly to be careful with the situation. Not far from Shell near the Sampoerna building, someone suddenly ran across the street. I was shocked and hit the break (front and rear) panicking that I might hit the guy. Unfortunately the road in which I was breaking was wet and muddy (because of the current construction nearby) My bike lose its balance and I fell down. I was not sliding far because I was riding slowly, but my bike fell on to my leg and cause those injuries. Fortunately, there were some people there (at night) who were willing to help me. One of them is a Ninja 150R rider, and we went home together after fixing some parts of my bike and talk a bit, and to make sure that I didn't have difficulties riding my way back home. He was a nice rider, respect for him!
Damage on the bike:
Scratches on left fairing
Transmission is bent, and pulled out a little now
Handle bar are rotated a bit, now it's getting to the right position
Damage on me:
Injury (cut) on my left knee
Sprain on some left body parts
I learned a lot from this experience, that riding slowly is not always safe. Sometimes other people are reckless and forgot to think about other road users. I will need to be more careful than this. Thankfully, now I am almost fully recovered and can ride like usual.
The other thing is, I finally changed my tire!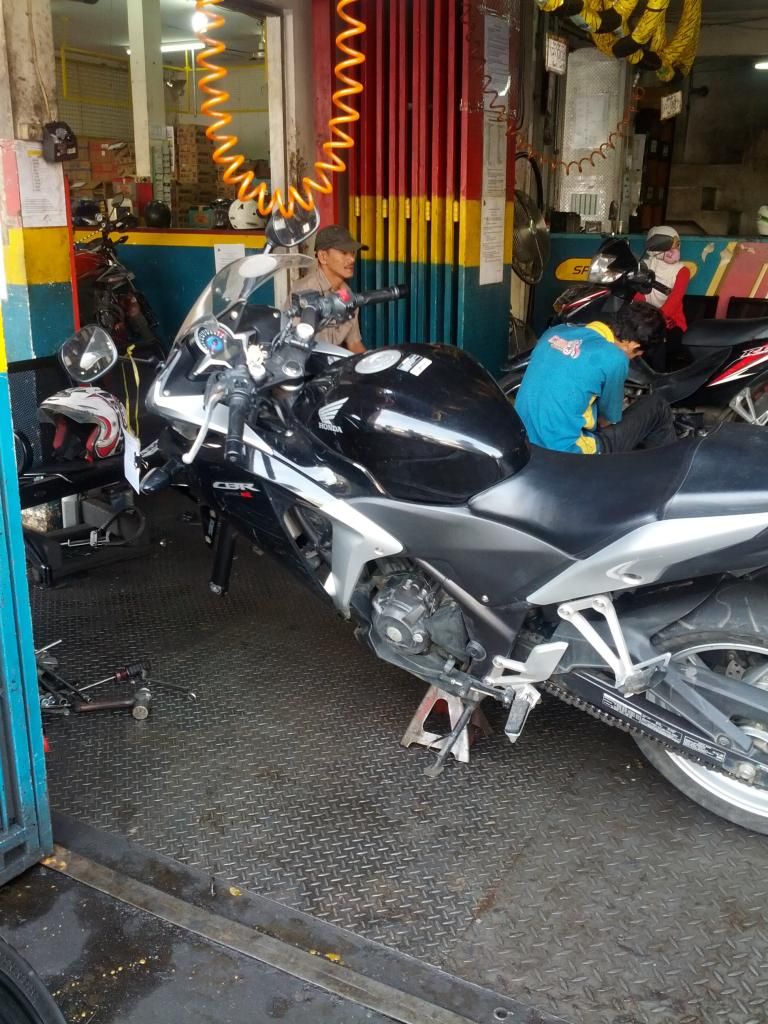 I noticed that I had to change my tire. This might also be the cause of me sliding before. Last Saturday morning, I went to Pasar Minggu Street to change my tire. There was this one big workshop that I had contacted before which was DSM, Dunia Sepeda Motor. As I arrived, I was amazed on the number of mechanics working there. I think it was about 30+ mechanics working there, and it was really crowded even in the Saturday morning. Luckily I had 1 spot available and I ordered for both tires and oil as well. I waited for 1 hour and voilà~ It's done, with new tires! The total cost is around IDR 760,000 and it was worth a penny. My Honda CBR250R is now more responsive and I would like to test it this Saturday for a ride with Jonathan's Kawasaki ZX-6R 636, with GoPro Hero3+ Black Edition as well!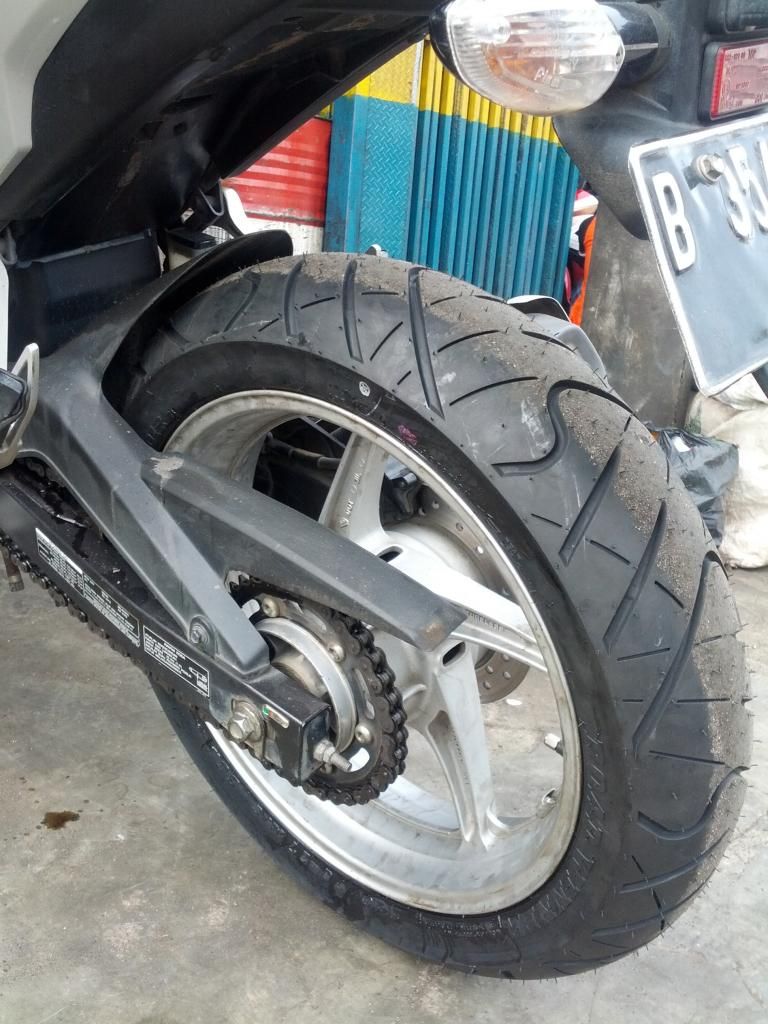 Before I close this post for today, I want to say Happy Fasting for those who are having a fasting month! God bless you all! And as always, Enjoy and Ride Safely! 
Arvy Este
Founder and Writer of Inside Helmet
Motorcycle Blog and Vlog Indonesia
Ride Outside, Write Insight