Another GoPro Hero3+ Black Edition test was taken last Saturday while I also planned to have a cornering practice at SCBD with Honda CBR250R. This place is known for its smooth asphalt, good cornering sections, and the tunnel fly by. I started out at 6.30AM from my neighborhood to Senayan. Sunday morning is always a good time to ride your sportsbike, since there are less traffic than any days (usually Saturday is fine as well). I travelled through Cipinang, Kampung Melayu, Tebet, Kasablanka, then arrived at Sudirman in which I forgot it was a car-free-day (no vehicles allowed in Sudirman Street). It was going to be quite early if the road is not blocked, but then I took the longer way through Pejompongan, riding through Plaza Senayan then ended up at Senopati Street to SCBD. A quite long detour, but it was worth it.
I started from the south, through SCBD Golf Driving Range, and turn left where the tunnel is through Bagel Bagel SCBD (where I saw a Lamborghini event was). Not long before I enter the tunnel, I heard a 4-cylinder coming through behind me, and it was a 2005 Yamaha R6. He seemed to be enjoying the SCBD cornering as well, and definitely he was not there to practice since he's doing much better than me.
We circled around SCBD for a couple of times, stopped by to have a rest, introduction, and chit chat about riding and GoPro. Too bad I don't have the LCD Screen Attachment for my GoPro, and watching through the GoPro App seems to be compressed that much. We decided to go home afterwards and unexpectedly, he lives near my neighborhood. Anyways, it was a good time for riding, and here is my riding photos through GoPro Hero3+ Black Edition (setting of 1080p Super Wide, cockpit view) with Bro Chiqni.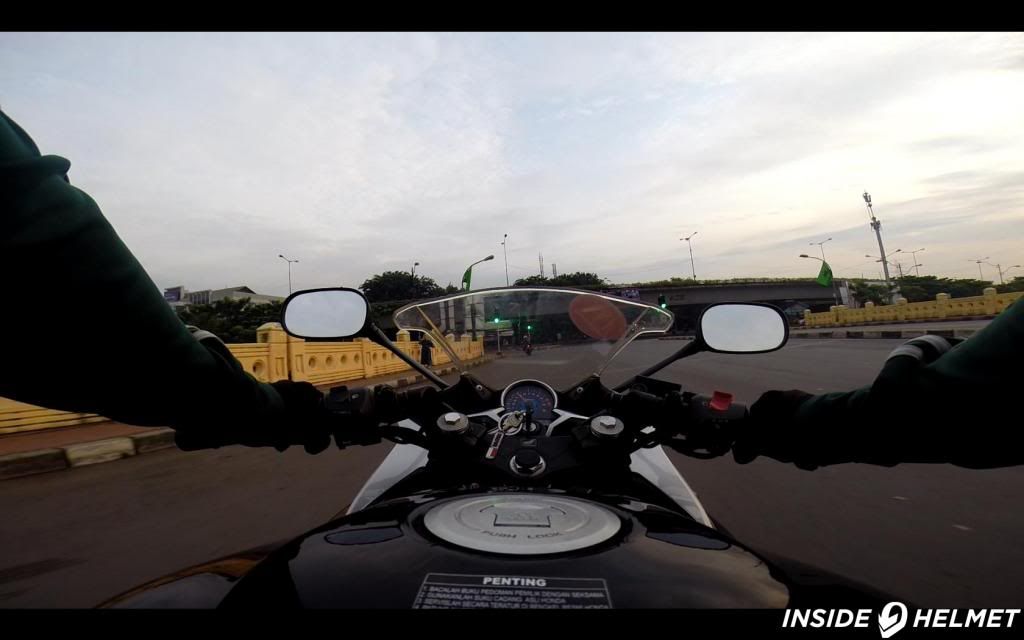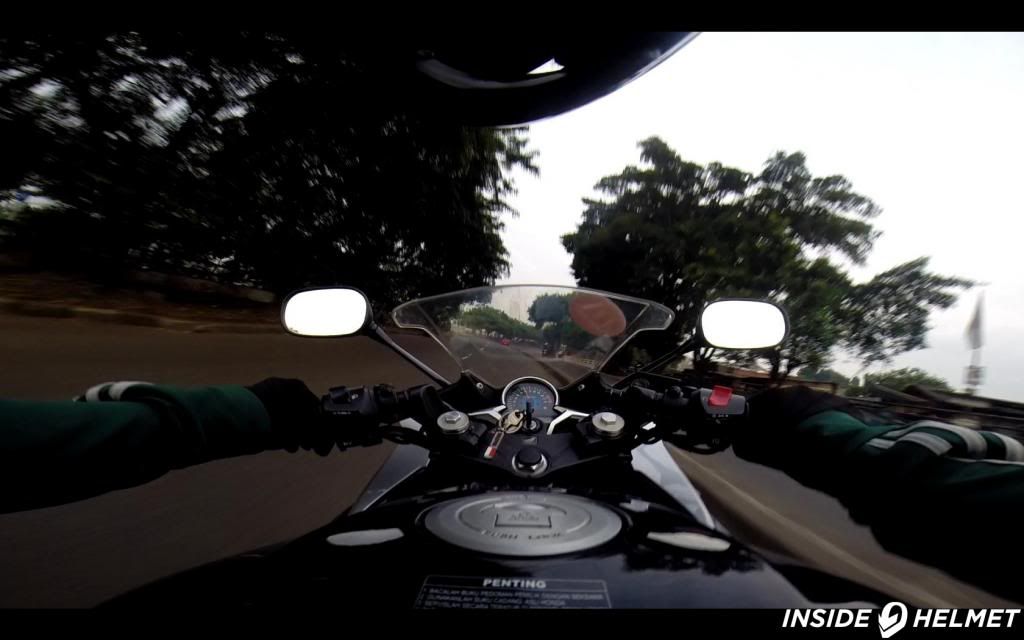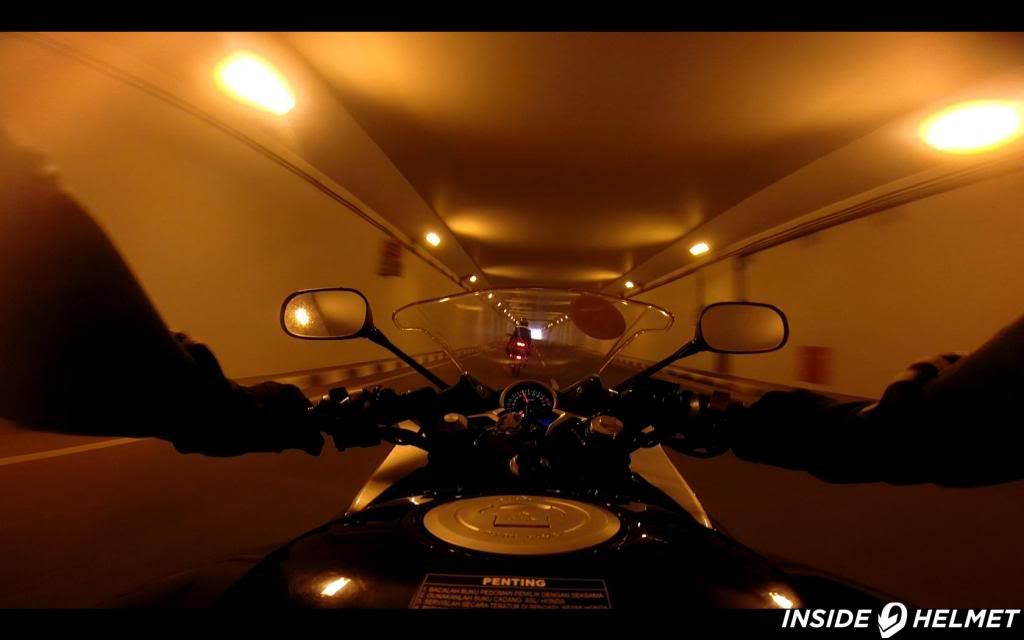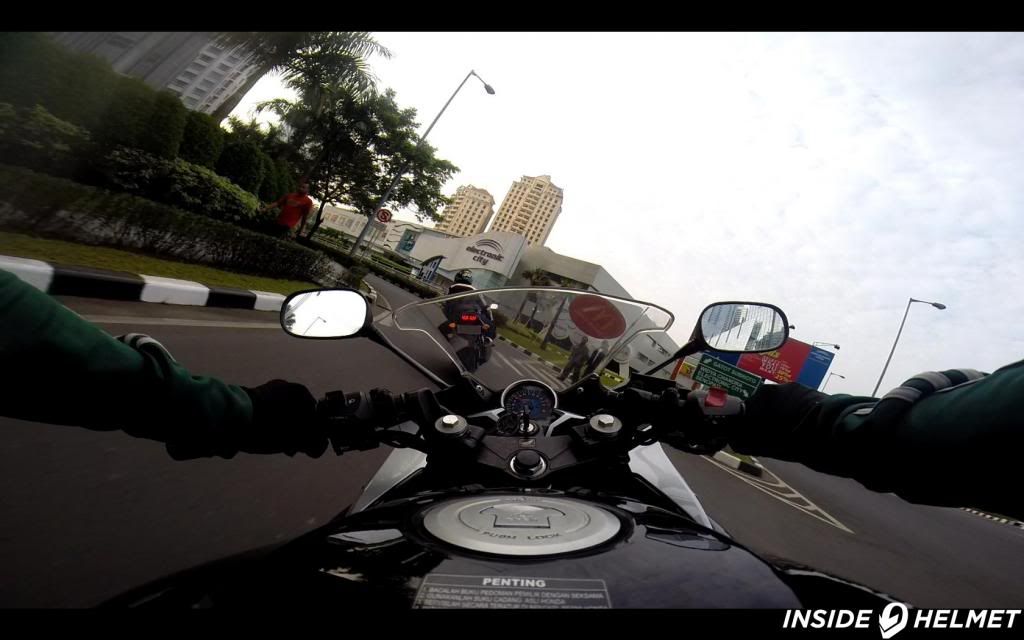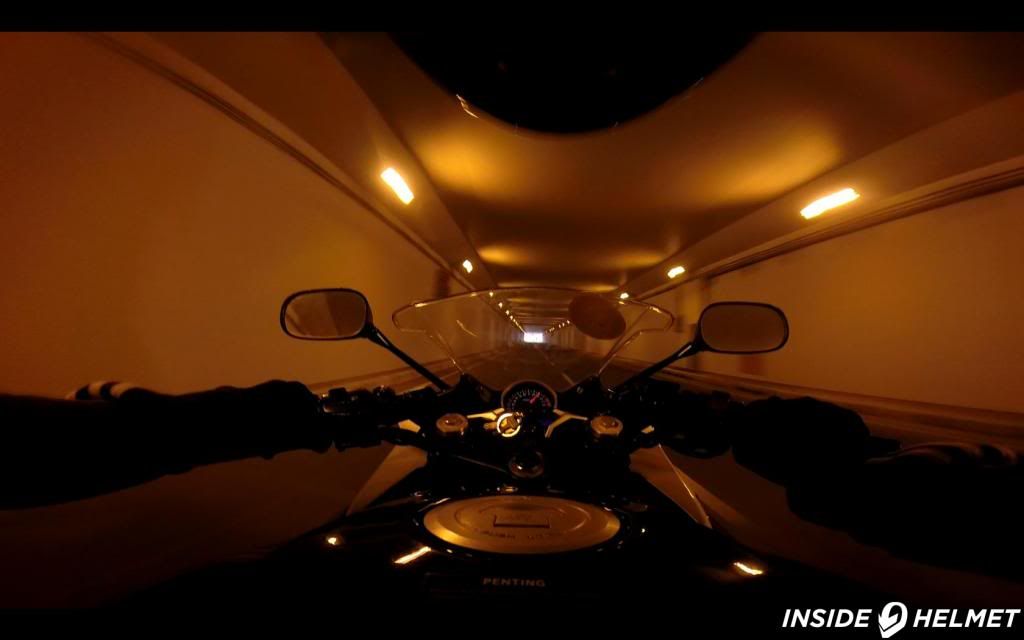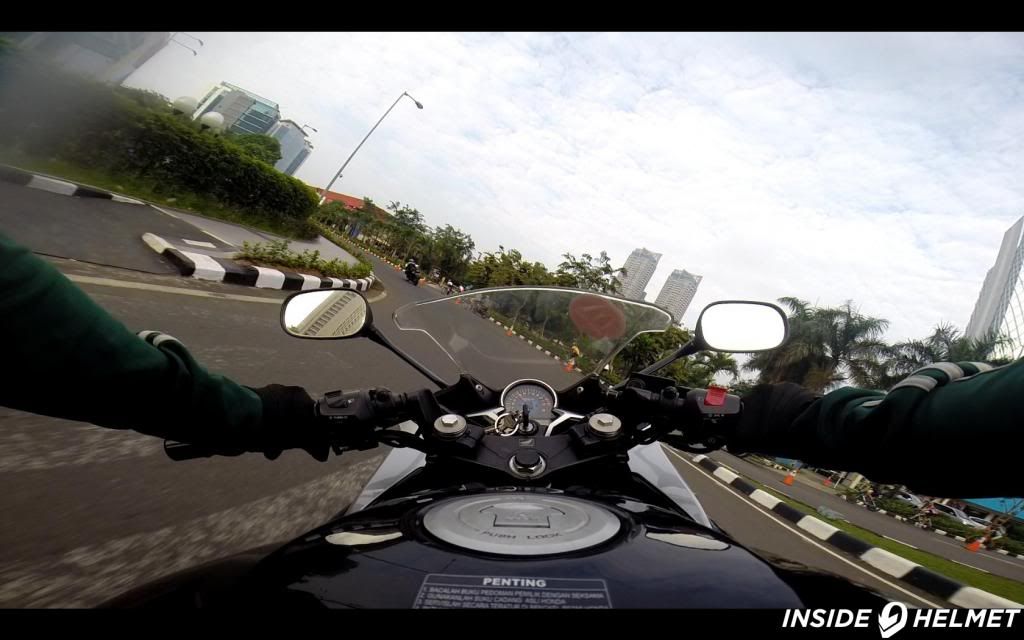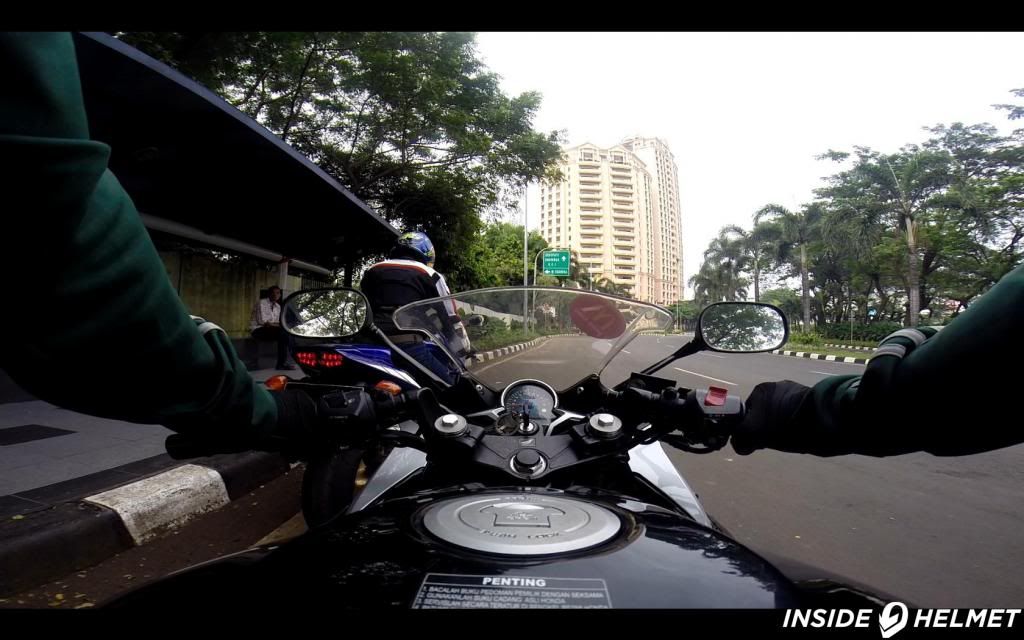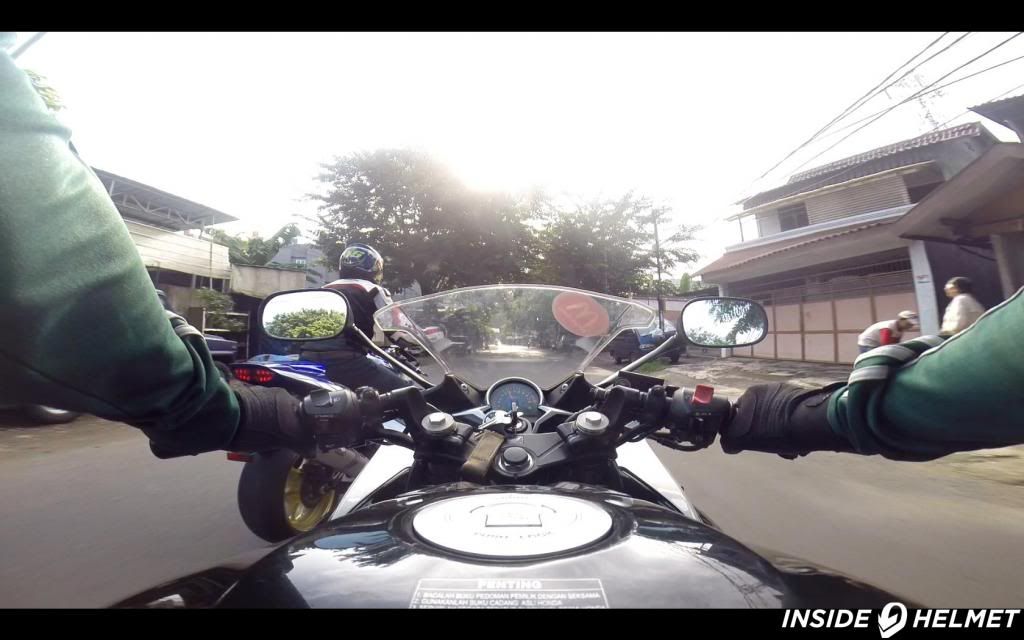 Of course it would not be fun if there is no video, that is why I am working on compiling (the big gigantic size) videos of my cornering practice at SCBD. There will be a vlog (varios of videos though) on YouTube from Inside Helmet, and it will be announced once the first video comes up. Thanks for reading, Enjoy and Ride Safely!
PS: No right turn photo. Why? McDonald sticker blocked the view 🙁
Bonus Photo (Setting of 12MP Quality, cropped because of its cubic size):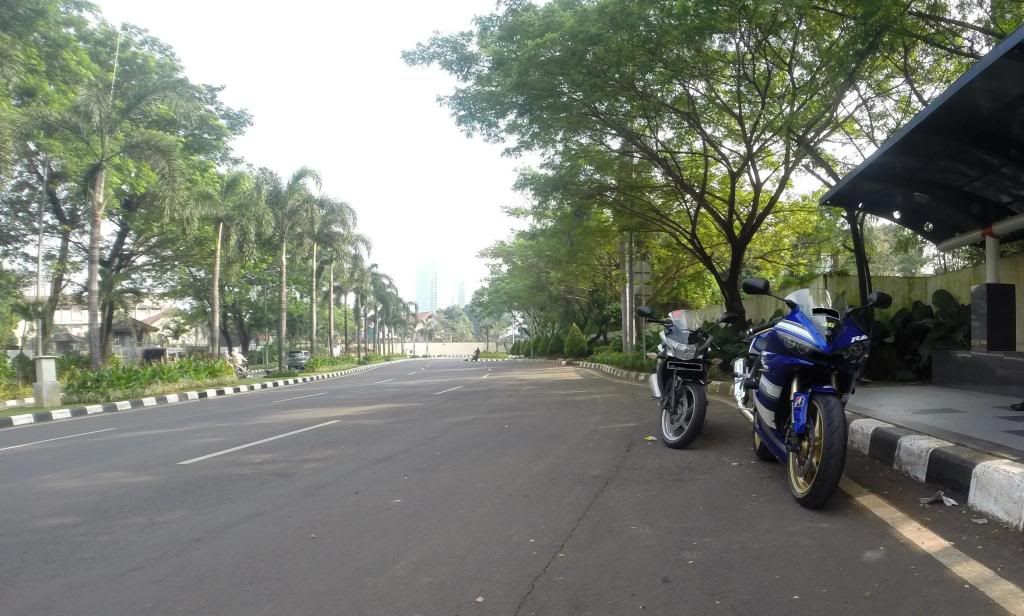 Arvy Este
Founder and Writer of Inside Helmet
Motorcycle Blog and Vlog Indonesia
Ride Outside, Write Insight